Teachers are
Change-Angels
Of Our Life
In this digital era and ever-changing environment, teachers need to empower themselves with latest tools and techniques.
Our ongoing programs include extended opportunities that offer continuous professional development of teachers in sync with the rapid transition to digitization.
Our primary goals are centered around enhancing the socio-economic status of teachers by incorporating rewards, incentives and newer opportunity for them to reap deserving rewards in their years ahead.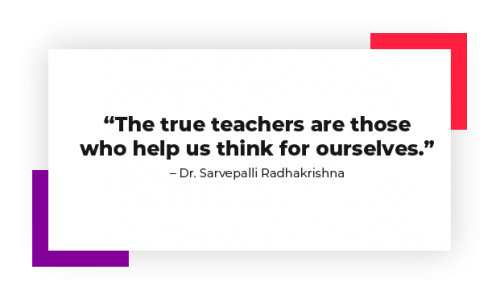 For The Teacher, Of The Teachers, By The Teachers
The S R Dalvi (I) Foundation, a non profit organisation, is established by Smt. Seeta Ramachandra Dalvi and her husband Ramachandraa Dalvi, as a gratitude to all teachers who play an important part in our formative years and even later.
After our family, teacher is the first person we get introduced to, whom our parents trust. Teacher hold our hand and takes efforts of planting the seed of knowledge in our mind. While parents help us to take our first steps, teachers guide us through twists and turns of coming years in our lives.
We truly believe that teaching is one of the noblest professions. After all, all professionals are created by teachers!
We are living in era of knowledge economy where knowledge is power. Without teacher, there will be no knowledge and without knowledge there won't be life. 
S R Dalvi (I) Foundation has taken upon its shoulders to ensure that teaching profession is looked up honorably and encourage knowledgeable people to take up this profession as a first choice.
We strongly believe, education is the best and sustainable route to change India. And Teachers are the best change-angels who can influence, motivate and encourage the future generation.
Through our various initiatives, we plan to build a community of passionate teachers, equipp them with necessary tools and means that will enable them to cultivate a generation of highly motivated knowledge seekers and talented students. 
Our vision is to establish teaching as noble profession and recognize teachers as valuable change-angels who play vital role in building character of gen next leading to nation building.
To build a community of passionate teachers, empower them with a platform to share knowledge with their fellow teachers.
To bring collective socio-economic benefits to teachers
To interface with education institutes and empower them with digital technologies
We aim to give every teacher due recognition, reward them for their achievement and nurture sense of fulfilment. Hence, we have created few welfare programs for our teachers.
We have established a network of digital  learning resources that equips teachers with latest digital tools to guide and enhance the skills of teachers.
Program to acknowledge and recognise teachers who work relentlessly and selflessly in the larger interests of the students.
We have formed meaningful partnerships and affiliates in the industry to bring economic opportunities to a teachers and their family members.
'TCHR Talk', is a digital platform interfaced with an innovative App developed exclusively for the teacher community to interact and opine on subjects of education, share experiences, support learning, share their achievements and help improvise on curriculum.
Let's connect, share and grow on TCHR Talk App
TCHR Talk is a social media platform exclusively for teachers. TCHR Talk platform enhances the teacher's experience by connecting with fellow teachers, sharing ideas, having discussions with other teachers, setting up opinion polls, registering for events, putting up their queries and grievances, being a part of various committees, webinars, and receive teacher-related updates.
FEATURED ARTICLES / BLOGS
Topic: Schools in Maharashtra will start from January 24 गेल्या 2 वर्षांपेक्षाही जास्त काळ आपण कोरोना नावाच्या महमारीचा सामना करत...
Read More
Vaneeta Shantaram Tambe (B.Sc.B.ed), Stays in Malad. A teacher at Universal High School, Malad. let us get to know the story of her journey.
"I  became a teacher because I have a Passion for Education, I have a deep passion for learning, and a genuine desire to impart knowledge and inspire others. I find joy in helping students grow intellectually, emotionally, and socially.