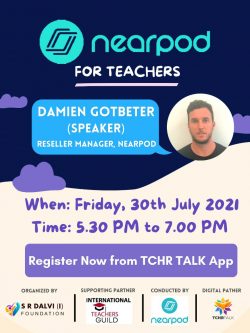 Nearpod For Teachers – Free Webinar
Nearpod For Teachers – Free Webinar
Nearpod offers rich hybrid learning by making it easy to combine media, and also provides assessments tools. Come, see the Nearpod magic in action and get ideas you can take back to your school and classroom.
Speaker :
Damien Gotbeter
Reseller Manager, Nearpod
Date: Friday, 30th July
Time : 5.30pm to 7pm
Limited Seats so please register now
– Open TCHR Talk
– Open Menu (Swipe from left)
– Select Events/Programs
– Select "Nearpod Event"
– Click Register
All teachers and educationist are welcome to attend this free webinar.
All Participants will get Certificate
Webinar organized by S R Dalvi (I) Foundation which works for teacher's welfare
Watch this event here